200 Bed Hospital Complex
Shown below is a mobile hospital site-plan. Specialized treatment and bed ward modules can be added on according to your specific needs. Units can be stacked and connected to make multi-level configurations. These Medical Facilities are scaleable and can be expanded by adding new modules as well as relocated if needed. Each unit is carefully designed to include the special requirements of each client while still meeting the stringent design standards of certified medical construction.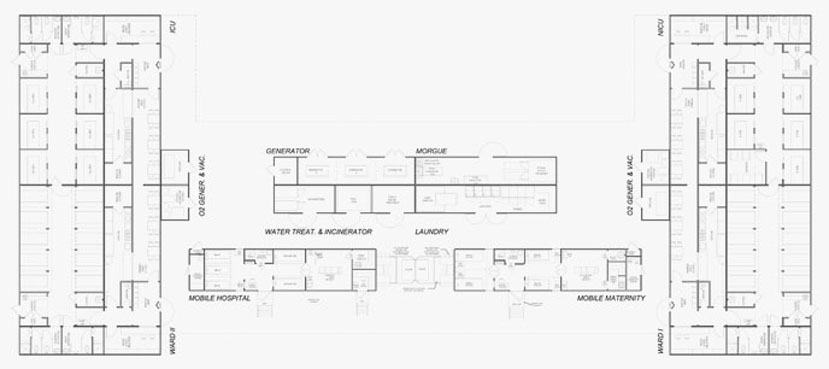 • Complete Hospital Infrastruture
• Intensive Care Unit
• Maternity and Surgery Suite
• Full Laboratory Suite
• Staff Housing
• Pharmacy Center
• Outpatient Clinic
• Inpatient Bed Ward
• Radiology Suite
• Kitchen and Dining Hall

• Generator Room
• Medical Gas Generation
• Morgue
• Water Treatment and Incinerator
• Laundry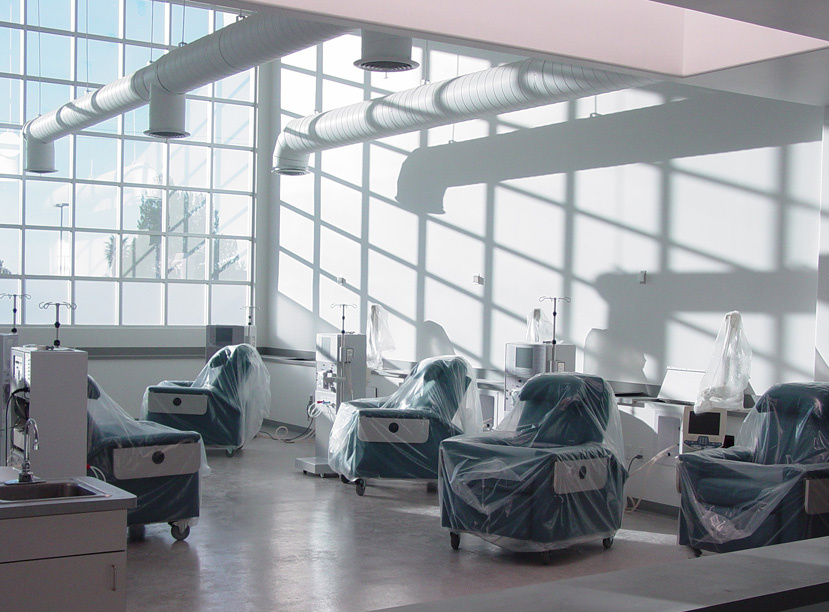 Half the price on average of traditional hospital construction: approx $500,000 per bed compared to $1 to 1.5 million per bed
Cost contained and take a fraction of the time to build: 6-9 months from time of contract compared to 5-8 years before facility can begin to accept patients
Arrive onsite pre-certified, fully equipped and stocked with Medical supplies, able to be deployed and operational in as little as 2 weeks upon delivery
Include up-to-date training on new high-tech equipment for key staff, at both our Training Center in CA, on-going video tutorials, as well as on-site upon installation [as per agreement]
Expertly designed and built in a highly specialized, controlled environment, ensuring the highest possible standards in healthcare construction.
Aesthetically designed with comfort, spaciousness and style to create the look and feel expected [associated w/?] from a state-of-the-art modern medical center
Componentized and scalable, allowing the later additions of auxiliary modules to be linked, expanding the facility's capabilities as required in a matter of months
Can be Green certified, environmentally sensitive and [can] create their own electricity using [roof-top] photovoltaic combined with diesel generator systems for automatic electrical back-up.
Capable of being self-contained: creating energy, medical gases, disposing of waste, plus water and sewer holding tanks onboard.
Constructed with the finest hospital-grade flooring and surfaces for ease of maintenance and decontamination requirements
Transportable and uniquely adaptable, using componentized units that can be moved to a new site via semi, rail, or airlift (freightliner?) in the event of changes such as climactic related population relocation and shifting civic planning requirements.
Connected via live satellite uplink to tech support, tutorial library, auto-restocking system, customer service, wifi and patient entertainment services
Equipped with a fully monitored security and remote cameras system
Built specifically to handle the severe climactic and environmental conditions found in disaster areas and militarily-active zones
Built specifically to handle the severe climactic and environmental conditions found in disaster areas and militarily-active zones
---
copyright 2010 energistx | contact | company | links | sitemap